Tux Member Presentation
Speaker
Deb Fels: When inclusive design research meets business, things happen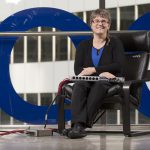 Abstract
Inclusive design involves considering as many different types of users as possible from the beginning of any design project. But, because it is not always possible to imagine and know about all of the different types of possible users, inclusive design also calls for customisation options to meet individual needs and abilities. Transferring projects designed to support people with disabilities into the mainstream marketplace adds another layer of complexity to the inclusive design process. In operation at Ryerson since 1995, researchers, students, staff, elders, artists, industry and community partners at the Inclusive Media and Design Centre (IMDC), carry out research and development on inclusive digital media, technologies and processes for people with disabilities and older adults. Using a foundation of inclusive design, the social model of disabilities, and mixed data collection and analysis methodologies, we pursue a research agenda that involves developing technologies such as robotics, neural networks, accessible interaction/interface designs, and sensory substitution, and translating those technologies into commercialisable entities, policies, standards and practices. In this presentation, I will briefly outline three of the current research projects, and describe one of the technology transfer activities that we have recently undertaken.
Bio
Dr. Fels has a PhD (1994) in Human Factors from Industrial Engineering at the University of Toronto. She is currently employed as a professor in the Ted Rogers School of Information Technology Management, and the Director of the Inclusive Media and Design Centre at Ryerson University. Her research interests involve inclusive design, access to media and technology for people with disabilities and older adults, inclusive video game design and inclusive business. She has published over 150 articles on inclusive technologies and applications, and received three patents.
Current research projects include: 1) audio description and captioning including software tools, LiveDescribe and LiveDescribe Web, and Pavo, and a Ryerson course series on inclusive media production; 2) sensory substitution techniques for access to sound and visual information including creation of a vibrotactile system called the Emoti-chair and a vibrotactile music facility, the VibroFusionLab; 3) WebMoti – integration of the Emoti-chair and WebChair for students with autism; 4) mixed-reality gaming for older adults; 5) needs analysis methods that are inclusive of older adults; 6) creating a deep neural network for assessing the subjective quality of closed captions; 7) MyHealthMyRecord for recording, curating and analysing qualitative data generated by patients; and 7) gamification in education. She is also a professional engineer.