Sanders Series Lecture
Speaker
Marcelo Coelho: Materializing Interaction
2018-03-13 12:30 at MaRS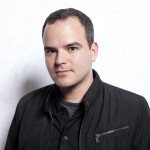 Abstract
As technology advances and we progress towards a world imbued with computation, how will we create programmable objects and spaces that are responsive and can take full advantage of our senses?
In this talk, Marcelo Coelho will present his design and research practice, and how the capabilities of computers and materials can be intertwined to create new aesthetic experiences. He will present examples of wearables, interactive installations, live performances, and nano- to stadium-sized sculptures, which present new opportunities and challenges in design, fabrication, and assembly. 
Bio
Marcelo Coelho is a Brazilian/American computation designer working on objects, installations, and live experiences. Spanning a wide range of media, processes, and scales, his work explores the boundaries between matter and information, fundamentally expanding and enhancing the ways in which we interact and communicate. Marcelo's creative work has been exhibited internationally, including places such as the Rio 2016 Paralympics Ceremonies, Ars Electronica, The Corcoran Gallery of Art, Tel Aviv Museum of Art, and Design Miami/, and can be found in private collections including the Maxine and Stuart Frankel Foundation for Art and The Rothschild Collection. Recognition for his work include two Prix Ars Electronica awards, VIDA 16.0 Award, and the W Hotels Designer of the Future Award. In addition to his practice, Marcelo is also a Lecturer at the MIT Department of Architecture and Head of Design at Formlabs. Prior to his practice, Marcelo Coelho received a Doctorate in Media Arts and Sciences from the MIT Media Lab.