Sanders Series Lecture
Speaker
Marcelo Coelho: Computational Materials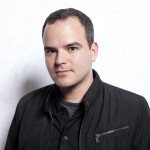 Abstract:
At the boundary between people and objects, we encounter a broad range of material properties. They perform functional roles such as permeability, comfort or illumination, while conveying information such as an object's affordances, composition, or history of use. However, today's materials are for the most part static and can neither adapt to our changing needs, nor communicate dynamic information. As technology advances and we progress towards a world imbued with computation, how will we create physical objects that are responsive and can take full advantage of our senses?
In this talk, I will present my design and research practice, which seeks to create new human experiences by conceptually and technically intertwining the capabilities and aesthetics of both computers and materials through computational composites, digital fabrication, and programmable matter.
Bio:
Marcelo Coelho's work focuses on programmable materials and digital fabrication technologies for products, installations, and crowd experiences. Spanning a wide range of media, processes, and scales, his work explores the boundaries between matter and information, fundamentally expanding and enhancing the ways in which we interact and communicate with one another.
Marcelo is currently Principal at Marcelo Coelho Studio, where he develops innovative and experimental work, and a Lecturer at the MIT Department of Architecture.  Prior to his studio practice, Marcelo Coelho received a Bachelor in Computation Arts with highest honors from Concordia University, and Doctorate in Media Arts and Sciences from the MIT Media Lab.
Marcelo's creative work has been exhibited internationally, including places such as Ars Electronica, The Corcoran Gallery of Art, Tel Aviv Museum of Art, Design Miami/, The Creators Project, Riflemaker Gallery, Johnson Trading Gallery, MIT Museum, Waddesdon Manor, among others. His work can also be found in private collections including the Maxine and Stuart Frankel Foundation for Art, The Rothschild Collection and the Tech Museum of Innovation. His work has also won several awards, including two Prix Ars Electronica awards, VIDA 16.0 Award, the W Hotels Designer of the Future Award, and Honorable Mention from ID Magazine Design Review. His work has also been published and featured extensively in outlets such as the New York Times, Wired, Fast Company, Financial Times and the Colbert Report, in addition to books and academic peer-reviewed journals.
Marcelo Coelho currently spends his time between the USA and Brazil, developing new personal work, collaborations, and commissions.